GoDaddy Discount: Up To 80% OFF Hosting Plans
GoDaddy is well known as one of the best hosting providers with over 59 million registered domains and 13 million+ customers worldwide. The company's goal from the beginning was to provide people with an affordable, simple way to put their ideas online.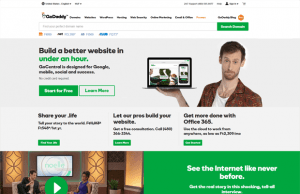 Pros and Cons of GoDaddy
Pros:
1. You can create a website and get it live in a matter of minutes.
2. It's super easy to use.
3. Its pricing plans are very cheap in comparison to some competitors.
4. Unlimited bandwidth right from the most basic hosting plan.
5. Offers a full circle of services from the registration of your domain, to the hosting of your site, to email and security services. This saves you the trouble of having to purchase separate services for your site.
6. All hosting plans come with a 45-day money-back guarantee. This is lengthier than the standard 30-day refund offered by most web hosts.
Cons:
1. Not much creative freedom available.
2. Lack of depth to some of its features.
3. Sites aren't as visually appealing as other website builders.
GoDaddy pricing and plans: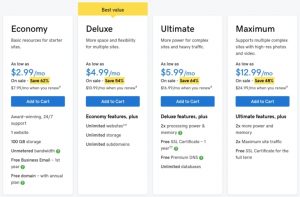 Economy Plan: One website for $5.99/month (renews at $7.99/month). You get 100 GB storage, unmetered bandwidth, free business email and a free domain name for the first year.
Deluxe Plan: Unlimited websites for $7.99/month (renews at $10.99/month). It comes with all of the Economy features, plus unlimited storage and subdomains.
Ultimate Plan: All Deluxe features and more for $12.99/month (renews at $16.99/month). Includes two times the processing power and memory, a free SSL certificate for the first year, premium DNS, and unlimited databases.
Maximum Plan: All Ultimate features and more for $19.99/month (renews at $29.99/month). You get two times the power and memory, two times "maximum site traffic" and a free SSL certificate the entire term you purchase.
GoDaddy Features:
Industry-Leading Page Loads & Domain Hosting:
GoDaddy has some of the fastest and reliable page load times by using cPanel and Linux. They offer low prices for registrations as well as include your domain name at no additional cost if you sign up for one of the company's annual hosting plans.
Award-Winning Security & Expert Support
GoDaddy has 24/7 security monitoring and DDoS protection to keep your site safe from attackers and malicious bots.
Simple Installation of Popular Web Apps
GoDaddy uses an industry standard like cPanel that can allow for a lot of common applications to be installed in mere minutes. Other options for one-click installs of content management systems likeWordPress, Joomla, Drupal, and more.
More Advanced Options for Seasoned Users
Besides shared hosting, GoDaddy provides customers with dedicated, VPS, and even WordPress-specific hosting packages.
GoDaddy Support and Customer Service
GoDaddy includes 24/7 Phone, Chat, Twitter, and Email Support, Extensive Online Help Center, and Ticketing System.
Conclusion: Is GoDaddy The Right Choice for You?
After reading the overview about GoDaddy offering the best online services including web hosting, web security, online marketing, DIY website building tools, and professional email hosting, you surely know the best choice for yourself.
If you want to begin with GoDaddy, follow here