1&1 Discount: Up To 50% OFF Hosting Plans
1&1 has been trading since 1988 and became 1&1 IONOS in 2018, moving forward with its mission of empowering businesses through powerful technology.1&1 IONOS is a reliable hosting providers of shared, VPS, dedicated servers, cloud and WordPress hosting services for small businesses and large enterprises.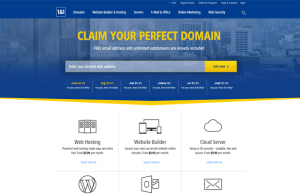 Pros and Cons of 1&1 IONOS
Pros:
1. One of the cheapest hosting providers on the market.
2. Every customer receives a dedicated support assistant.
Cons:
1. Dated and unintuitive backend control panel.
2. Not very beginner friendly.
3. Some hidden/unexpected costs.
4. Online reviews suggest help and support often falls short.
1&1 IONOS pricing and plans:
The Managed Cloud Hosting M plan costs $15 per month, the Managed Cloud Hosting L costs $25 per month, the Managed Cloud Hosting XL costs $35 per month, and the Managed Cloud Hosting XXL costs $65 per month. Monthly prices are based on signing a year-long contract.
1&1 IONOS provides a free domain name for the first year for some plans. After the first year, you'll pay around $15 annually to keep it registered. Sometimes web hosting companies charge an additional fee to register a domain name or will take $15 off your refund if you cancel within the first 30 days as part of their money-back guarantee.
1&1 IONOS' shared plans are covered by a 30-day, money-back guarantee; however, cloud hosting is billed by usage, so you can cancel at any time. For its managed cloud hosting packages, 1&1 IONOS includes a $100 starting credit for each new account. The credit is deducted from the first month's billing and is only valid for use within the first 30 days for managed cloud hosting packages and components specifically.
The pricing, terms and details of each plan are specific only to 1&1 IONOS's managed cloud hosting plans. If you sign up for another 1&1 IONOS web hosting option, the pricing and terms may vary.

1&1 IONOS features:
1. FREE domain and 1&1 site builder: all plans nearly come with a free domain name registration and ample amounts of storage, subdomains, and email accounts.
2. Tons of Scalable Cloud Options: Users can choose a pre-defined starting configuration, with available sizes ranging from "M" to "XXL," for affordable and easy entry into the cloud.
3. Specialized SEO and Marketing Tools: 1&1 IONOS shines an SEO spotlight on your site with rankingCoach, ensuring it is more visible to your audience and search engines.
4. Top-Notch Performance and Security: 1&1 IONOS managed server packages with optional performance enhancements in addition to the full slate of web hosting features. Managed hosting customers receive unlimited traffic and 100% SSD storage that delivers speeds up to 10 times faster than HDDs.
1&1 IONOS Support and Customer Service
1&1 IONOS offers 24/7 phone support 365 days a year. Some plans are helped with free email support. They also provide one-on-one support from your own personal consultant, free of charge. Every plan pairs you with a dedicated consultant that you can reach directly by phone, chat, or email during regular business hours. They'll learn your business, suggest specific optimizations, and help you troubleshoot any issues that may arise.
Conclusion: Is 1&1 IONOS the Right Choice for You?
1&1 IONOS with specific feature as well as suitable prices and they manages about 12 million domains and holds 8 million customer contracts worldwide, maybe you had own your answer that it is really right for you, or not.
if you are ready to get started with 1&1 IONOS, please click here