Vultr Discount: Up To 60% OFF VPS Servers
Vultr founded in 2014, is well known as one of the best providers of high-performance SSD (solid-state drive) cloud servers that boast a global footprint. They provide customers with a standardized platform with the aim of creating the most reliable and efficient hosting service for developers around the globe.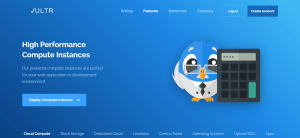 Pros and Cons of Vultr
Pros:
Sturdy cloud infrastructure
Pure SSD storage
Great range of plans in both performance and pricing
Global datacenters across 4 continents
Easy-to-monitor hourly billing.
Cons:
Tech-savvy hosting and likely not beginner-friendly
No live chat or phone support
No flexibility in payment date.
Vultr pricing and plans:

Vultr offers 4 products:
Cloud Compute: starting at $2.5/mo – powerful compute instances with intel CPUs and 100% SSD storage.
Bare Metal: starting at $120/mo – fully automated dedicated servers with zero virtualization layer.
Block Storage: starting at $1/mo – fast SSD-backed scalable and redundant storage with up to 10TB volumes.
Dedicated Cloud: starting at $60/mo – dedicated cloud compute instances without the noisy neighbors.
Vultr Features
Vultr offers some features like:
16 Server Locations Worldwide: Vultr offers the largest worldwide network plus SSD VPS on KVM-based platform and experience the same great performance globally.
Advanced networking:
Powerful networking feature enable enterprises to deploy highly customizable and scalable cloud infrastructure.
High Performance IP Network
Secure Private Networking
Reserved Ips
Powerful Control Panel
Vultr offers cloud control panel which has useful features which can benefit you in a variety of ways like: instant server deployment, quick view server health, easy snapshots, flexible settings management with intuitive Interface.
Flexible Operating System
Customers can choose from several major Linux distributions such as Ubuntu, CentOS, CoreOS, Debian, Fedora, OpenBSD, Windows and FreeBSD. They also can upload custom ISO by creating unlimited operating system combinations in any of 16 worldwide locations.
Deploy Apps in One-Click
Customers can deploy popular applications and game servers on our high performance servers with a single click through cPanel, Docker, Drupal, GitLab, Magento, Nextcloud and much more.
Upload Custom ISO
Customers can upload their own ISO is available in every location the Vultr platform is available. Spanning 4 continents, your custom ISO upload can be mounted in any of our 16 cities in Australia, Asia, Europe, and North America.
Vultr Support and Customer Service
Vultr offers great customer care advice through support ticket on their website. Besides, you can contact the customer care team directly through email, ticketing or social media with ease. Moreover, customers can find a vibrant online community at discuss.vultr.com it's really useful for developers of all experience levels.
Conclusion: Is Vultr the Right Choice for you?
With over 15 years of experience, Vultr is one of the most trusted cloud hosting brands in the field. After considering the features, pros and cons as well as other conditions, if you are fond of Vultr, please find out here