VPSDime Discount: Up To 30% OFF VPS & Servers
VPSDime established in 2013, is one of the leading providers of budget VPS hosting. They offer many services like shoutcast hosting, , KVM servers, high RAM servers, low cost dedicated servers, Turbo servers, windows VPS, Linux VPS, Bulk SMS and more.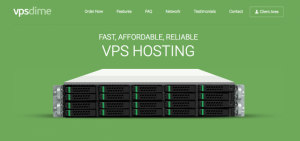 Pros and Cons of VPSDime
Pros:
Great pricing with no fine print
High memory and storage available
Big choice of operating systems at no extra fees
Plenty of bandwidth
Full SSD storage
Multiple points of presence globally
Cons:
Limited support ( no telephone support or live chat)
No basic DDoS protection or backups
Not fully private
Network speed difference between locations
VPSDime pricing and plans:

VPSDime has 6 tiers of Linux VPS with the starting price of $7/month which provides you with 6GB RAM. It is possible to update up to 36GB RAM for $42/month.
Premium VPS starting at $20/mo, including 4GB RAM and 32GB RAM for $160/mo.
Storage VPS has the price starting at $40/year with 100GB RAM and $28/mo for 2000GB RAM.
Also, in order to see the prices of different tiers, simply  move the slider to the right or left.
Starting with $7/month, the pricing is the same for either quarterly, semi-annually, or annually plans. You'll just need to pay in advance.
VPSDime Features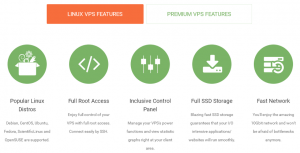 VPSDime supports a variety of popular Linux Distros, including Debian, CentOS, Ubuntu, Fedora, ScientificLinux and OpenSUSE. You can enjoy full control of your VPS with full root access and can connect via SSH, which allows you to be in full control of your hosting account at all times. Your account comes with a SolusVM control panel where you can manage all the functions of your VPS with ease, right from the client area.
Their infrastructure and includes full SSD storage – blazing fast SSD storage guarantees that your I/O intensive applications/ websites will run smoothly. Besides, you can enjoy fast network with the amazing 10Gbit network and won't be afraid of bottlenecks anymore.
Also, simply move the slider to the right to see features of premiumVPS and storage VPS.
VPSDime Support and Customer Service
VPSDime offer a knowledge base and you also can get in touch with them by creating a help ticket. Besides, The FAQ section is also quite useful and focuses mainly on questions you may have before you sign up for their services.
Conclusion: Is VPSDime the Right Choice for you?
VPSDime is connected with 400+ data centers globally and they deliver servers to clients from any place or any data centers. However, their support is limited to network, hardware or performance issues.
After considering all necessary factors about VPSDime, if you are interested in it, click here